---
Posts: 351
Joined: Thu Aug 16, 2012
Location: Canada
When I did this sondage I was between 1k and 2k. My goal was to go under 1k. Now I'm above 2k. I have to see a doctor to find a solution for this addiction
---
Posts: 1272
Joined: Sat May 17, 2014
Location: federal witness protection
POUNDS
Proverbs 27:17 "As iron sharpens iron, so a friend sharpens a friend."
---
Posts: 8834
Joined: Mon Jul 13, 2009
not enough



---
Gold Jester
Posts: 2613
Joined: Mon Jul 25, 2016
Location: PA
More than 1/5th of the sample falls into the top category. It appears that for BS members, enough is never enough.
*** LOOKING FOR YPS #17 & 18s. Please contact me if you have any for sale.***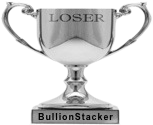 ---
---
Who is online
Users browsing this forum: No registered users and 1 guest