---
Moderator
Posts: 13863
Joined: Tue May 10, 2011
Location: Canyonlands National Park, USA
If you do could you provide more detail.



---
Posts: 2029
Joined: Sat Sep 17, 2011
One word: COA

I guess that is 3 letters...




---
Posts: 2108
Joined: Mon Jul 13, 2009
Location: Undisclosed Ghost Town
one of the great oxymorons...
keceph `anah
---
Posts: 6289
Joined: Thu Nov 03, 2011
If the price is right--hell yeah




KCCO
---
Turtle Supporter
Posts: 4801
Joined: Sun Feb 06, 2011
Location: Illinois
I have a couple sets I build but most of all I just like the fact that its proven real in case you need to get rid of it in times where bullion is questionable. If im getting it for the same premium I would pay for raw I only see it as a good thing.
I accept payment through Dwolla, PPG, check or money order. Accommodation available for international orders as well.
---
Posts: 369
Joined: Mon Aug 27, 2012
Location: Central VA
besides my eagle set i am building, i have a few graded panda's. besides that, if its just a small premium over spot why not

---
Site Admin
Posts: 9079
Joined: Sat Jul 11, 2009
I have bought proof graded gold for the same price as raw BU--yeah, why not.



---
Silver Supporter
Posts: 1127
Joined: Tue Jun 07, 2011
I think a better question would be if you buy graded coins at the graded price.
Bikes, Guitars, Beer, Women, Metal, not always in that order.
---
Supporter
Posts: 3285
Joined: Wed Sep 22, 2010
Location: Minnesota
I will buy MS67-68s at raw pricing - then I'll probably crack them out back into capsules or OGP...
MS69 at raw if I can get it - otherwise I pass...
MS70 at a slight premium - not surprisingly I rarely find 70s at my cheapskate prices.
I buy PF/PRF69-70s only if I can't find the coin in a nice raw Proof - same with Burnished UNC.
I never pay up for ER, FS, WTC, labels, or signatures.
So, bottom line, I don't buy many graded coins... but I won't automatically kick them outta bed

"You have a choice between the natural stability of gold, and the honesty and intelligence of the members of government. Vote for Gold."........ George Bernard Shaw
---
Posts: 1258
Joined: Wed Jan 27, 2010
Where is the, "I buy raw and submit to TGP" option?
Looking to buy Pre-2010 £2 Britannias (Proof/Regular, Graded/Ungraded, must be 69-70 BU quality)
---
Posts: 1866
Joined: Tue May 29, 2012
Justfishin wrote:If the price is right--hell yeah
+1
didnt someone post a pic of all a bunch of cracked PCGS/NGC holders so they could take the coins out?!?

---
Posts: 5770
Joined: Sun Jul 19, 2009
Location: Florida
Well, I buy quite a bit of MS70 pieces. You only live once, might as well have the best.
Take advantage of Mr Rebates and get cash back on tons of Internet purchases. It works, it really works!!! Hit the link below and you are on your way and you will also receive a $5 bonus for signing up.
http://www.mrrebates.com?refid=395845
Don't miss out on Free Cash for everyday purchases.
---
Gold Jester
Posts: 3418
Joined: Sat Mar 20, 2010
Location: THE MOON!!!
I started a set of MS70 Au buffaloes that I add to every year; but I buy a proof Au buff in the orignal package from the mint. I don't have the eye to tell the difference in MS coins unless there are some obvious defects.

I buy proof 69 and ms69 silver eagle every year to keep a collection going.. I suspect that the investment is not a wise one but..

When I purchase Chinese coins or pre33 US Au I look for slabbed as I am paranoid of counterfeits.
Don't think of me as a cynic; I am an optimist with experience!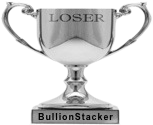 "To think things out properly and fairly, a fellow's got to be calm and old and toothless: When you're an old gaffer with no teeth, it's easy to say: 'Damn it, boys, you mustn't bite!' But, when you've got all thirty-two teeth..."
Nikos Kazantzakis..
ZORBA THE GREEK
---
Posts: 731
Joined: Fri Apr 15, 2011
For classics or real numis, I'll buy graded ones, and, if possible, CAC label too. CAC label is important in sight-unseen purchases, like those on eBay. CAC is to ensure that the coin is in the upper range of that particular grade. In my limited experience, when buying sight-unseen, you often get a lower quality coin in that particular grade.

For bullions, I look for MS69's when buying sight-unseen. MS69's often command only a small premium over raw coins, especially on those one ounce gold buffalos or eagles. Modern bullion coins from the dealers almost always are the left-overs from the ones that were picked by the dealer and sent for grading. These left-overs are often of lower MS quality. APMEX sells "mini-direct" bullion coins, promising that these are directly from the mint and not cherry-picked. Of course, they add additional premium on these coins.
---
---
Who is online
Users browsing this forum: No registered users and 1 guest