Site Admin
Posts: 9194
Joined: Sat Jul 11, 2009
Hope it was a good one!



---
Posts: 898
Joined: Wed Aug 05, 2015
Location: Roanoke Valley Area - VA
Many Happy Returns of the Day!



If U.S. Dollars were miles, the U.S. national debt could be expressed in light years -- over 3 now, and counting...
---
Gold Jester
Posts: 2653
Joined: Mon Jul 25, 2016
Location: PA
Happy Birthday!
*** LOOKING FOR YPS #17 & 18s. Please contact me if you have any for sale.***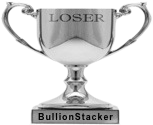 ---
Supporter
Posts: 2443
Joined: Wed Dec 19, 2012
Location: 'Cuse
HBD Joe!
"Those who can make you believe absurdities can make you commit atrocities" Voltaire
---
Gold Jester
Posts: 3433
Joined: Sat Mar 20, 2010
Location: THE MOON!!!
Happy Birthday Joefro....


"Life is trouble. Only death is not. To be alive is to undo your belt and *look* for trouble."



"The human soul is heavy, clumsy, held in the mud of the flesh. Its perceptions are still coarse and brutish. It can divine nothing clearly, nothing with certainty"


- Zorba the Greek, Nikos Kazantzakis

---
Site Tech
Posts: 3351
Joined: Fri Jan 06, 2012
Thanks for the birthday wishes everyone! It was a good day.
---
Posts: 58
Joined: Sat Oct 08, 2016
Location: Uncensored Reality
My dad told me it was your birthday the other day. Thought I'd finally get back on here and start by wishing you a belated happy birthday. Hope you got lots of silver and gold.
-_-

I'm hoping I'm wrong, but it will be so satisfying to say I was right.

...And the greatest minds in the world cried at the surrounding stupidity.
---
Gold Supporter
Posts: 659
Joined: Sun Dec 20, 2015
Location: Pennsylvania
Happy belated birthday Joefro!!
"I, Franklin D Roosevelt…do declare that said national emergency still continues to exist and…do hereby prohibit the hoarding of gold…"

EXECUTIVE ORDER 6102, issued by US president Franklin Delano Roosevelt on April 5th 1933, banned private gold ownership .
---
---
Who is online
Users browsing this forum: lucky43113 and 2 guests