Posts: 106
Joined: Fri Aug 25, 2017
---
Gold Jester
Posts: 2769
Joined: Mon Jul 25, 2016
Location: PA
Information wants to be free. All will be known... in time.
*** LOOKING FOR YPS #17 & 18s. Please contact me if you have any for sale.***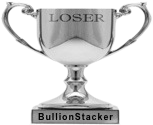 ---
Supporter
Posts: 3500
Joined: Wed Sep 22, 2010
Location: Minnesota
Not "resigning", "retiring", "leaving to explore other opportunities".... TERMINATED.

Maybe simply due to CLCT starting the year at 30 and steadily dropping to 15.

Possibly that David Hall Rare Coins and Collector's Universe (PCGS) have operated a little too "close" and this is a preemptive CYA for 'news to come'.
"You have a choice between the natural stability of gold, and the honesty and intelligence of the members of government. Vote for Gold."........ George Bernard Shaw
---
Jester
Posts: 4512
Joined: Wed Oct 05, 2011
Location: Almost Heaven
Played correctly.... a non-issue. Played poorly......trouble in the Rare coin market. There's the value of CAC folks.

---
Turtle Supporter
Posts: 3550
Joined: Fri Aug 09, 2013
Location: Connecticut
Share price has been clubbed the past year and supposedly he was escorted out from what i've heard. Crazy.
---
---
Who is online
Users browsing this forum: No registered users and 2 guests